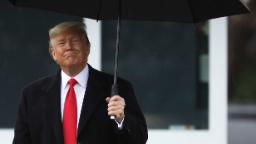 RNC chairwoman Ronna McDaniel called the Commission on Presidential Debates – which is nonpartisan and has a co-chair who was once the chairman of the RNC – "biased"
in a statement
and said it had "refused to enact simple and commonsense reforms to help ensure fair debates including hosting debates before voting begins and selecting moderators who have never worked for candidates on the debate stage."
(If you did not know that statement was from McDaniel, I bet I could convince you that it was from Trump. Right?)
This decision has been in process for months now. In January, McDaniel made clear that the RNC wanted more of a hand in choosing the moderators for the three general election debates. "As long as the CPD appears intent on stonewalling the meaningful reforms necessary to restore its credibility with the Republican Party as a fair and nonpartisan actor, the RNC will take every step to ensure that future Republican presidential nominees are given that opportunity elsewhere," McDaniel wrote in a letter to the commission at the time.
Such a move would be utterly unthinkable prior to Trump's rise within the party. The CPD has been around since 1987 and, until Trump came on the scene, was generally regarded as a paragon of neutrality in an increasingly polarized political world.
While campaigns have wrangled over the details of the debates, there was previously little question that both major party nominees would participate. Trump changed all of that in 2020 when he refused to be a part of the second general election debate after CPD changed it to a virtual gathering to deal with concerns about the spread of Covid-19.
"The commission changed the debate style and that's not acceptable to us," Trump said at the time.
(Worth noting: According to a book by former White House chief of staff Mark Meadows, Trump had tested positive for Covid-19 three days before the first general election debate. Trump received a negative test result shortly after, Meadows wrote.)
Trump also skipped a debate in the 2016 Republican primary campaign because – you guessed it! – he did not like the moderator, in particular Megyn Kelly, with whom he had clashed. "Let's see how much money Fox is going to make on the debate without me, OK?" Trump said of his decision to skip the debate. He held a separate event during the debate and went on to lose the Iowa caucuses to Texas Sen. Ted Cruz.
Now, much like his fact-free obsession with voter fraud in the 2020 election, Trump has made views over the debate system a litmus test of support for him. Either you say the debates are biased against Trump Republicans, or you can expect the former President to cast you as insignificantly loyal. Which explains why McDaniel has taken this so far.
Make no mistake: This RNC decision likely does not happen without the urging of Trump. And the fact that the RNC is breaking with the CPD is evidence, as if you needed more, that the former President is still VERY MUCH in charge of the Republican Party.