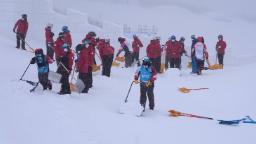 Russia's teen skating sensation Kamila Valieva has been named on the draw for Tuesday's single skating short program, despite the ongoing controversy over her positive drug test.
Earlier this week, Valieva became the first woman to land a quadruple jump at the Olympics. She helped the Russian Olympic Committee (ROC) win gold at the team event; at the short program on Tuesday, she plans to skate to "In Memoriam" by Kirill Richter and attempt a triple axel as well as a triple flip.
However, all that will be moot if the Court of Arbitration for Sport rules against Valieva at a hearing later today. The results are expected to come Monday afternoon.
Some context: The 15-year-old tested positive for the banned heart drug trimetazidine in late December before the Beijing 2022 Winter Olympics, according to the International Testing Agency (ITA).
The failed results were only announced on February 8, well into the Olympics, one day after the ROC's victory in the team event.
She was immediately given a provisional suspension by the Russian Anti-Doping Agency – but she challenged the suspension and it was lifted a day later, clearing her to continue competing.
The ITA, the International Olympic Committee, the World Anti-Doping Agency and the International Skating Union are appealing the decision to lift her suspension. Valieva has been free to train as the deliberations continue.
The confirmation of results of the team figure skating competition could come much later, with the US poised to take gold from Russia if the court rules against Valieva at today's hearing.