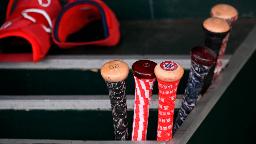 CNN
–
Major League Baseball (MLB) has extended its self-imposed deadline to reach a labor deal with the Major League Baseball Players Association (MLBPA) for the 2022 season to start on time, amid a work stoppage and attempts by owners and players to negotiate a new collective bargaining agreement (CBA).
MLB has extended the deadline to reach a labor deal with the MLBPA for the 2022 season to start on time at 5 pm ET Tuesday, according to MLB.com and other reports.
Last week, MLB set a Monday deadline to hammer out a new collective bargaining agreement with the union for there to be a typical 162-game season, a source familiar told CNN.
Both sides were at the negotiating table in Jupiter, Florida for more than 16 hours on Monday which stretched into the early Tuesday morning hours, per MLB.com. The two sides are set to meet at 11 am ET this morning.
MLB is in the midst of its first work stoppage since the 1994-1995 season.
Owners and players are currently negotiating a new CBA – without a new deal, there will be no baseball. The CBA determines players' terms and conditions of employment.
MLB.com reports that "some progress was made" and "there is optimism that the two sides could be nearing an agreement" that would allow Opening Day – scheduled for March 31 – to begin on time, preventing regular season games from being lost.
Spring training, as well as the exhibition games schedule, have already been pushed back and canceled through March 7.
Last month, MLB commissioner Rob Manfred said missing games would be a "disastrous outcome" for baseball.
CNN has reached out to MLB / MLBPA for comment.