Oisin Murphy will be unable to ride until February 2023 after being handed a 14-month ban for breaching Covid-19 regulations and failing two breath tests.
The three-time champion jockey will be ineligible to reapply for his riding license for 11 months after admitting to breaking Covid regulations, misleading the BHA and prejudicial conduct.
He has been given an additional 100 days for alcohol breaches after two racecourse incidents during 2021, including failing a breathalyser test at Newmarket in October last year.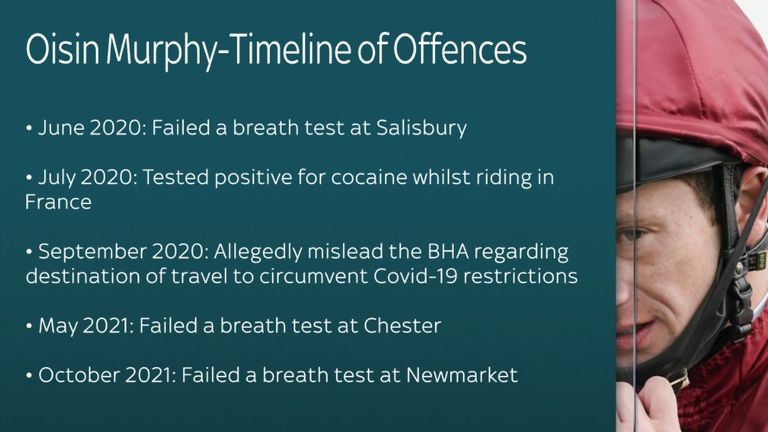 Murphy relinquished his riding license last year in order to focus on his rehabilitation after a breach of coronavirus protocols.
The cases were heard simultaneously by a three-person panel, chaired by James O'Mahony in the presence of Rachel Spearing and Anthony Connell, with the charges combined after Murphy's legal team applied for an extension in December.
The panel outlined a timeline of events from when Murphy went on holiday on September 9, 2020 to September 19.
Murphy had gone to the Greek island of Mykonos, which was on the Covid red-list at the time, but he had attempted to convince officials he had been at Lake Como.
Former jockey Jason Weaver has said the 14-month ban handed to Oisin Murphy will cause a 'massive ripple effect' in horse racing.

His ban has been backdated to December 8, 2021, with the fact he currently does not have a license meaning Murphy could be suspended so the panel opted to declare him ineligible to reapply for the enforced time period. It has also been confirmed that he will keep his 2021 Champion Jockey title.
Murphy told the panel: "Some jockeys deal with things by going home and playing the Playstation, I go home, watch all the replays, scrutinize everything and drink a bottle of wine or a bottle of vodka.
"I get up the next morning and ride out and no one really knew anything about it.
"Coming back from Chelmsford, it was only a short journey but I'd started pouring Vodka-Lemonades before a friend's dinner party. A lot of racing people were there.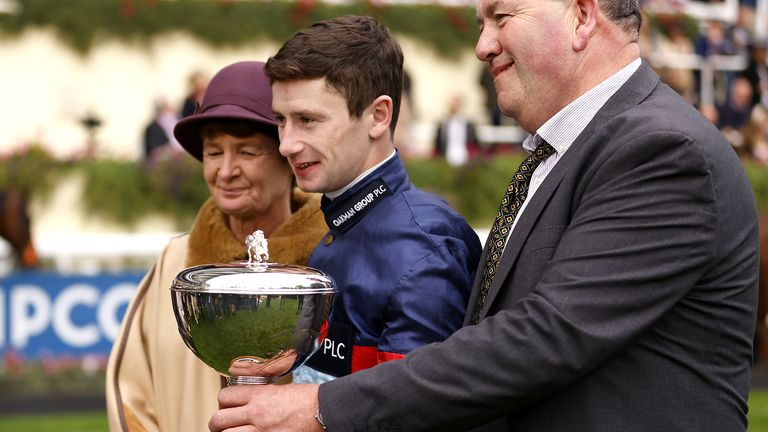 "I managed to switch my mind off from racing, I do not know how much wine I drank, but it was enough. I remember agreeing to go to the Yard [pub] but I do not remember being there at all.
"When I woke up I realized I had light weights and I got in the bath and sweated for an hour. My friends started messaging me saying I'd done this and done that, some of it true, some of it untrue.
"All of a sudden the panic set in. I knew I was out of control, I never drank on the way to the races, but in the evening, I was capable of drinking one glass of wine, or ten and not knowing the next morning what I had done.
"It took until then for me to finally give in, I knew my issues of coping with pressure and self-caused had led to me developing an addiction to alcohol. I should have realized a lot earlier, the writing was on the wall and the people were there to help me.
"David Redvers had tried to help me, but I convinced myself I did not have a problem because I did not get up in the morning and have a drink."
Panel chair, O'Mahony, added: "Reference has been made to three breaches of COVID regulations. Breaches of regulations can apply to a whole range of things.
"For example, a family who lives in a 14 floor high block breaking lockdown to have a walk in the park. This level of offending is very different.
"You knew all along that you had to self-isolate, that's all you had to do, as countless others did. But you embarked on a deception that was planned, carefully calculated and detailed and it was prolonged for a significant period of time. You only put your hands up, with your back against the wall. "
The BHA released a statement after the verdict, stating: "We would like to thank the independent Disciplinary Panel for their careful consideration of the various complex and unique matters which were covered at this hearing.
Sky Sports Racing expert Kevin Blake hopes that the 14-month ban handed to Oisin Murphy will be a turning point for him as a jockey and a person.

"Mr Murphy's breaches of the Rules were extremely serious, reckless and potentially incredibly damaging for the sport. They risked endangering his fellow jockeys and racing industry participants.
"The BHA is proud of the way the industry adapted to the challenges caused by the COVID-19 pandemic and how racing was able to restart quickly and successfully behind closed doors. Mr Murphy's actions put this at risk. They also occurred at a time when so many people were making great sacrifices to follow the rules and protocols set out by the British Governments and the racing industry.
Mr Murphy also acted with pre-meditation to deceive the racing industry and public regarding his whereabouts, as well as BHA investigators.
"In their summing up, the independent Panel stated that Mr Murphy's conduct was unworthy of a sportsman and previous champion, and he had let down his colleagues and the sport.
"We would, however, also acknowledge that Mr Murphy later made full, public admissions regarding these offenses, and did not seek to contest the rule breaches at today's hearing. He also gave full and frank admissions regarding his personal battles.
"All of these matters were considered by the independent Panel in their decisions regarding a penalty for Mr Murphy."
Murphy will be able to return to race-riding if regaining his license on February 16, 2023.